American Academy of Cosmetic Dentistry Announces 38th Annual Scientific Session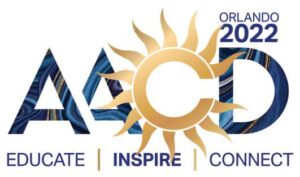 The American Academy of Cosmetic Dentistry (AACD) has announced that its flagship global conference will be held April 27–30 in Orlando. The event will present a variety of educational opportunities from leaders in the field of esthetic dentistry. With more than 30 hands-on workshops and 11 lectures, there is the opportunity to earn more than 48 continuing education credits. 
New for 2022, a session called "Expert Room: Masterclass" will feature industry leaders who will open the floor to discussions about what it takes to be successful in the business of cosmetic dentistry. Attendees will explore topics related to improving practice productivity, talking with patients about cosmetic dentistry beyond insurance, and more.
Formal AACD accreditation is also available, and attendees can get started on earning their credential at the scientific session by taking the written exam and attending required workshops. For more information, visit aacdconference.com.
From Decisions in Dentistry. February 2022;8(2)7.