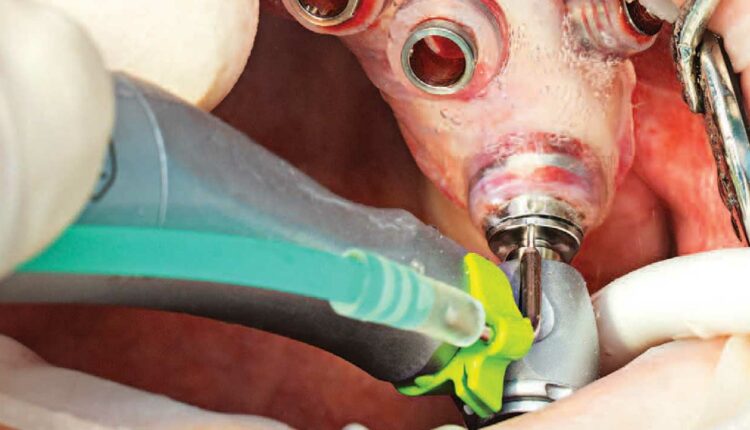 Implant Therapy: The Gold Standard
Implant-supported restorations offer the best solutions for edentulism.
Tooth loss affects more than half of the adult population in the United States.1 Implant-supported restorations have become the top choice for restorative tooth replacement due to the benefits of conserving the surrounding alveolar bone and tooth structures.1,2
Data from the National Health and Nutrition Examination Survey show the prevalence of dental implants rose from 5.7% to 17% between 1999 and 2016 with projected growth as high as 23% by 2026.1
As implants have become the gold standard for replacing missing teeth, innovative and less invasive approaches have emerged, warranting a greater understanding of the current techniques available.
History of Dental Implants
Human attempts to fashion dental implants date back many centuries. Evidence of custom-designed, soldered gold bands intended to restore oral function was discovered among 500 BC-period Etruscans and attempts at stabilizing periodontally involved teeth with gold ligature wires have been noted as far back as ancient Egyptian times.3
The titanium-coated implants used today are the product of Per-Ingvar Brånemark, MD, PhD, who developed the pure titanium screw method in 1965.3 Brånemark's work led to the idea of osseointegration and the inclusion of dental implants into dental curricula.
The conventional placement of implants requires surgically flapping the tissue to expose the bone and inserting the implant using a free-handed method.4 However, emerging technologies provide enhanced location accuracy through medical imaging technology such as cone-beam computed tomography and surgically guided placement procedures.4
References
Elani HW, Starr JR, Da Silva JD, Gallucci GO. Trends in dental implant use in the US, 1999-2016, and projections to 2026J J Dent Res. 2018;97:1424–1430.
Naeini EN, Atashkadeh M, De Bruyn H, D'Haese J. Narrative review regarding the applicability, accuracy, and clinical outcome of flapless implant surgery with or without computer guidance. Clin Implant Dent Relat Res. 2020;22:454–467.
Abraham CM. A brief historical perspective on dental implants, their surface coatings and treatments. Open Dent J. 2014;8:50–55.
Yadav MK, Verma UP, Parikh H, Dixit M. Minimally invasive transgingival implant therapy: a literature review. Natl J Maxillofac Surg. 2018;9:117–122.
This information originally appeared in Monchik C, Marsh I. Innovations in implant therapy. Dimensions of Dental Hygiene. 2023;21(3)34-37.