Kettenbach Dental Announces Launch of Futar Easy
The successful family of bite registration materials is growing. Brand new to the lineup: Futar Easy — the name says it all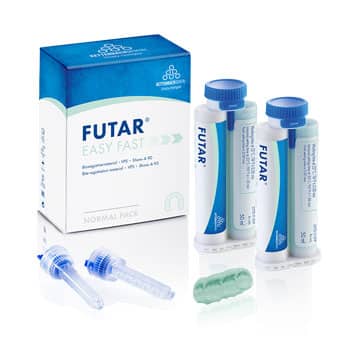 Kettenbach Dental (877-KEBA-123; kettenbach-dental.us) knows all about materials for bite registration: Products from the Futar family have been market leaders globally for 25 years now. And this is also the case for the two newest products in the Futar family: Futar Easy and Futar Easy Fast.
These silicone-based bite registration materials are easy-to-apply and allow precise recording of occlusal relationships. Thanks to the particularly low dispensing force, it is noticeably easy to discharge from the cartridge. The new products were launched in September 2022, first in Germany and Europe. And in the U.S. market on January 15, 2023.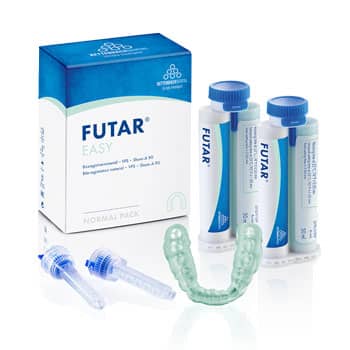 Both new products fit seamlessly into Kettenbach Dental's high-quality standard for all its materials — for the benefit of clinicians and their patients. Futar Easy and Futar Easy Fast also build upon familiar and popular product advantages, such as the high final hardness (Shore A 90), which minimizes compression when mounting models in the laboratory. Despite the relatively high final hardness, both materials are flexible to process and easy to trim with a scalpel. Futar Easy Fast ensures even greater efficiency and patient comfort due to its particularly short setting characteristics (45 second intraoral set).
Cost effective and easy to use, Futar Easy and Futar Easy Fast provide simple and precise results without unnecessary physical effort. So, they fit perfectly into the family of Futar bite registration materials.
About Kettenbach LP: Located in Huntington Beach, California, Kettenbach LP is the exclusive U.S. distributor for Kettenbach GmbH & Co. KG located in Eschenburg, Germany. Founded by August Kettenbach in 1944, Kettenbach GmbH was created for the development and marketing of medical and dental products. Today, the company is one of the leading international producers of impression materials for dental use and is also known in other surgical areas of medicine. For more information, please call 877-KEBA-123 or visit kettenbach-dental.us.