Pac-Dent Announces Launch of iVac Endodontic Irrigation System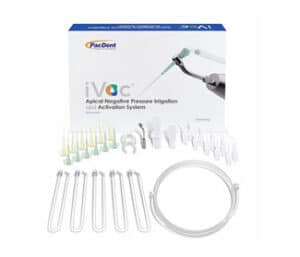 Pac-Dent (909-839-0888; pac-dent.com) has announced it will launch the iVac Apical Negative Pressure Irrigation and Activation System during the Greater New York Dental Meeting, scheduled November 27–30, 2022. The addition of this new irrigation system broadens Pac-Dent's growing dental portfolio and further solidifies it as a leading force in endodontics.
The iVac System is designed to be used during the root canal treatment irrigation phase, preferably connected to a piezo ultrasonic handpiece. The system was created using the three most important concepts established by endodontic research for root canal irrigation and disinfection: ultrasonic vibration, negative pressure, and concomitant irrigation. The iVac System boosts root canal irrigation and disinfection efficacy by uniting these three irrigation fundamentals into a single device.
Features and benefits of the iVac System include:
Compared with classic irrigation, 30 times less irrigant extrusion (according to preliminary tests)
Concomitant irrigation always leads to the use of fresh irrigant
Allows the irrigating fluid to travel through the entire canal to the working length
High debris removal due to the ultrasonic fluid's microstreaming effects
Polymer cannula with high resistance and flexibility for canal navigation
Adaptable to the majority of final irrigation protocols
Low cost per procedure
The thoughtful design of the iVac's polymer microcannula allows effective ultrasonic activation of the irrigant, even in curved canals. In addition to ultrasonic vibration, this new design is said to significantly reduce the risk of clogging. Compatible with most piezo ultrasonic devices (type S or E), with or without a reservoir, Pac-Dent's iVac system is simple to install and offers intuitive operation.
About Pac-Dent: Pac-Dent is a fast-growing international design, manufacturing and wholesale dental product and device company. Founded in 1992, and celebrating its 30th anniversary, Pac-Dent has earned a reputation as one of the best and most reliable in the dental industry. Pac-Dent focuses on delivering the highest quality, technologically advanced and innovative products in the preventive, teeth whitening, endodontic and infection control segments.