VITA Expands Shade Selection for VITA YZ ST
Reliable materials that can be produced efficiently and precisely in the required shades are an everyday necessity in digital dentistry. VITA's (800-828-3839; vitanorthamerica.com) YZ ST offers just that: a quality material system with ideally matched components — and now seven new shades. The super translucent zirconia blanks are available in several versions, including VITA YZ ST White, VITA YZ ST Color and VITA YZ Multicolor and are suitable for the production of monolithic, as well as partially veneered crown and bridge restorations in both the anterior and posterior.
With the addition of the new B1 and C1 shades, clinicians and laboratory technicians have nine VITA classical A1-D4 shades available. Four new VITA SYSTEM 3D-MASTER shades have also been added, including 1M1, 2M1, 3M1, 4M1, as well as the special bleached shade 0M1 for even more brightness in the esthetic zone.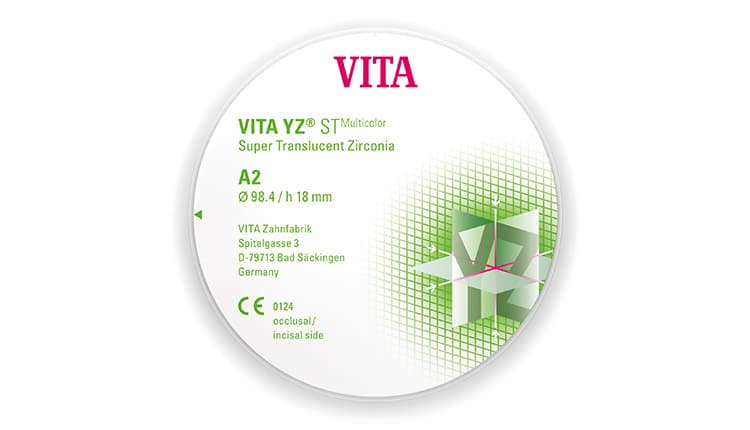 With the speed sintering range of VITA YZ ST, up to three bridge units can be completed in less than 60 minutes. This easily programmable option is available on the VITA ZYRCOMAT 6100 MS sintering furnace, or will automatically be available with the next software update.
New shades and fast sintering properties make VITA YZ ST an ideal option to achieve efficient, solid and esthetic results with excellent shade matching.
VITA is a leading provider of innovative dental products. The company pioneered the field of tooth shade determination with the development of the world-renowned VITA classical A1-D4 shade guide and its proprietary VITA SYSTEM 3D-MASTER, the first and only system that covers the complete range of natural tooth shades. From premium denture teeth and veneering materials to digital shade measurement, furnaces and CAD/CAM restorations, VITA helps laboratory technicians and clinicians deliver high quality and esthetic results to patients quickly and efficiently.