DOC Brands Launches OrthoDots CLEAR and OrVance Retainer Cleaner Professional Dispensing Packs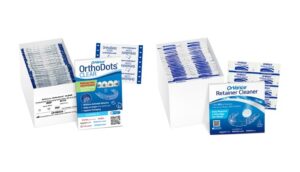 DOC Brands, the new consumer brands marketer of OrVance products, is now providing OrthoDots CLEAR and OrVance Retainer Cleaner in Professional Dispensing Packs. The Professional Dispensing Packs provide a convenient and low-cost approach for orthodontic and dental practices to distribute high-demand patient product samples with patient education and information on where they can buy more.
The Professional Dispensing Packs for OrthoDots CLEAR and OrVance Retainer Cleaner consists of 4-ct strips and patient instruction cards. Included on the instruction card is a QR code connecting the patient to instructional videos that provide patient education and simple instructions for use.
David Fox, commercial lead of the OrVance partnership and senior advisor to DOC Brands, states, "We're excited to extend our consumer oral care product focus to the professional channel to deliver a win-win for both practices and patients. The new Professional Dispensing Packs are purposefully devised to provide an easy approach for practices to offer the best products and information specifically designed to maximize patient satisfaction while minimizing costs to the practice."
The new OrVance Professional Dispensing Packs are currently available from Patterson Dental Supply, GC Orthodontics and Great Lakes Dental Technologies.