VOCO Launches a Unique Retraction Paste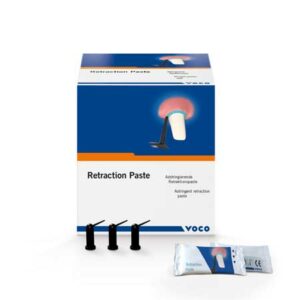 Featuring a custom tip and two-stage viscosity, the new retraction paste from VOCO is an aluminum chloride formula that effectively widens and dries the gingival sulcus, creating ideal conditions for accurate digital or conventional impressions.
VOCO Retraction Paste features a custom capsule with a long, fine, flexible plastic tip that allows precise application without damaging the gingiva. Its two-stage viscosity makes application easy. First, the paste flows under low pressure into the sulcus with minimal extrusion force. Once in place, its viscosity increases to remain stable as it temporarily widens the sulcus.
Primarily used for retraction of the marginal gingiva and moisture management of the gingival sulcus prior to analog or digital impressions, VOCO Retraction Paste can also be used to assist in the cementation of temporary or permanent restorations, and during preparations for class II and V restorations.
The paste, which can easily be rinsed off after one to two minutes, features a bright turquoise color to ensure maximum visibility, and each capsule treats up to three teeth. In addition, VOCO reports that use of this product can save up to 50% of the practitioner's procedural time compared to other methods and brands, and it can be used as a replacement for, or in combination with, retraction cord.
For more information, visit vocoamerica.com.