Midmark and Bien-Air Strategic Partnership Brings Enhanced Simplicity to the Dental Operatory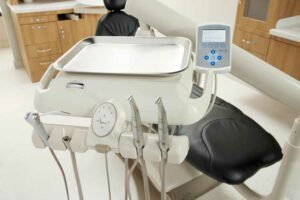 Midmark, a leading dental solutions provider, has announced a new strategic partnership with Bien-Air that combines the two companies' technology into a simple and easy-to-use delivery care solution.
With a shared commitment to enhancing the point-of-care experience and a combined 170 years of design and manufacturing experience, Midmark and Bien-Air are partnering to integrate Bien-Air's latest electric handpiece solutions into Midmark's dental delivery equipment for a more complete operatory ecosystem.
The two companies are working together to enhance safety, optimize ergonomics, and improve both the clinician and patient experience. Now, dentists can select Midmark's leading Procenter and Elevance delivery units with Bien-Air's newest micromotor and contra-angle handpieces for an operatory-ready solution designed to:
Simplify workflow with the versatility of the newest micromotor and two new contra-angle handpieces to perform a broad range of clinical procedures.
Provide proper ergonomic balance, lighter weight and smaller size for less strain on the clinician's hand, arm and shoulder.
Enable remarkable access to the oral cavity with smaller handpiece heads for a better workflow and patient experience.
Reduce the risk of patient burn with CoolTouch+, the world's first heat-arresting system proven not to exceed human body temperature.
Reduce cross-contamination with the only autoclavable anti-retraction valve.
"Midmark is constantly looking for ways to help design better care in the clinical environment, which is what makes this partnership so exciting," says Jon Wells, Midmark president and CEO. "We are thrilled to be joining forces with another industry-leading company that shares our strategic vision. This collaboration reflects the emphasis our companies place on improving the lives and livelihoods of each dental team we serve, and improving the experience at the point of care."
"For more than 60 years, Bien-Air has been leading the way in electric motor systems for dental and surgical applications," says Edgar Schönbächler, CEO of Bien-Air Dental. "Reliability and efficiency, typical Swiss values, have always guided our company. We are excited about this new step in our long-term partnership with Midmark. The seamless integration of our products is the result of a common understanding of the practitioner's needs, helping to improve clinical efficiency and the patient's journey."
As part of this new partnership, Midmark is also offering Bien-Air's Lubricare 2 handpiece care and maintenance system for automatically cleaning and lubricating handpieces. This maintenance system integrates easily into the instrument processing workflow and is compatible with handpieces from a variety of manufacturers. To learn more about Midmark and Bien-Air electric handpiece solutions, visit www.midmark.com/bienair.