Dugoni School of Dentistry to Host Free Health Event for San Francisco Area Military Veterans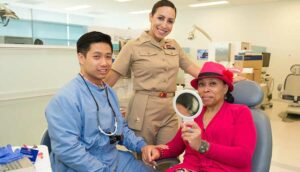 San Francisco Bay Area military veterans will have an opportunity to visit with dental and audiology professionals this Veterans Day as part of a free community event being organized by University of the Pacific's Arthur A. Dugoni School of Dentistry.
On Thursday, November 11, the school is hosting free oral health checks, hearing screenings, and COVID-19 vaccine booster doses for those who qualify. The event will be held from 9:00 am to noon at the school's campus at 155 Fifth Street in downtown San Francisco. Attendees will receive a free health goody bag, learn about ongoing affordable care offered at the school's clinics, and get questions answered by dental and audiology professionals from the University of the Pacific.
Appointments are required and can be made by calling 415.400.8437 or emailing [email protected].