MouthWatch Launches HD Intraoral Camera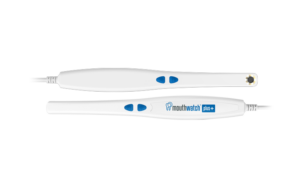 MouthWatch, a leader in innovative teledentistry solutions, digital case presentation tools and intraoral cameras, will debut its MouthWatch Plus+ HD intraoral camera during SmileCon 2021 in Las Vegas. With a launch special price of $999 and SRP of $1199, The MouthWatch Plus+ features true 1080p image resolution at a significantly lower cost than other HD intraoral cameras on the market — including those that claim to be HD, but only capture 720p images.
"MouthWatch Plus+ is disrupting the dental market once again — this time by striking the perfect balance between price and performance in a true HD intraoral camera," notes MouthWatch Founder and CEO Brant Herman. MouthWatch Plus+ includes the following features that deliver stunning images, even on large monitors:
True 1080p HD resolution images
Rapid video display rate of 60 frames per second
Accurate anatomical color rendition
Adjustable LED lighting with four brightness levels
Lighting and capture control buttons on top and bottom for multiple ergonomic grasp options
Power saving standby mode turns off when the camera is untouched for 30 seconds; switches on by touching any button.
Guaranteed to integrate with all imaging software, MouthWatch Plus+ also integrates with the company's award-winning teledentistry platform, TeleDent, which enables clinicians to share true HD images and videos with colleagues and patients. The result can be improved collaboration and case acceptance. To order online, visit mouthwatch.com/plus+.