Centrix Announces the Release of FluoroDose LolliTray Packaging
FluoroDose Fluoride Varnish with Xylitol just got an upgrade to have top-of-the-line packaging to match its top-of-the-line quality! The award-winning varnish is now packaged in our new enclosed LolliTray, a fully enclosed package designed with you in mind. Sporting four patented custom features, the LolliTray has been engineered to make every fluoride application easier, safer, faster, and more comfortable, for you and your patients!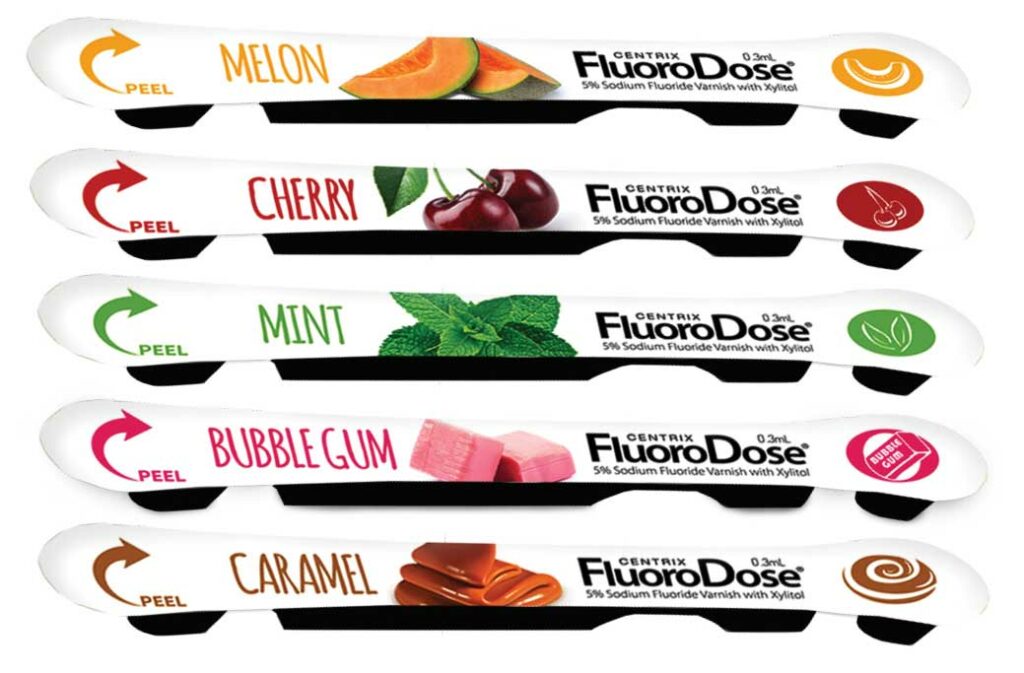 LolliTray™ Custom Features
Finger grip to avoid slipping. Packaging sits comfortably in your hand.

Smooth easy-peel cover.

Applicator fulcrum to pop up included Benda Brush for easy access

Custom varnish well, angled to allow you to control the amount of material on your brush.
Clinicians praise the smooth consistency (not stringy, or clumpy) and the fast application (done in under a minute). Patients of all ages enjoy the great-tasting flavors and clear finish that eliminates discoloration.
FluoroDose contains 5% sodium fluoride, the maximum dosage permitted, and xylitol for an added anti-bacterial property. Our unit-dose applications are packaged in single-patient, 0.35 mL doses to eliminate cross contamination and provide the perfect amount for children or adults. Available in bubble gum, mint, cherry, melon and caramel.
Applying FluoroDose is Easy! Simply peel back the cover, dip the brush into the well, mix FluoroDose to your desired consistency and swipe all surfaces of each tooth. The entire application takes less than a minute, and you and your patient will leave with a smile.
Centrix products are available from all leading dental distributors or by calling Centrix at 800.235.5862.  To learn more about Centrix products, visit us online at http://www.centrixdental.com.