Profluorid® Varnish – New Pina Colada Flavor
Light and great-tasting white transparent 5% Sodium Fluoride Varnish.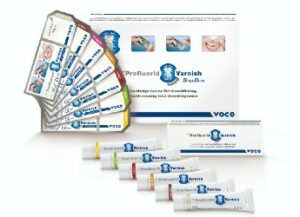 VOCO is now expanding its line of Profluorid® Varnish flavors to include Pina Colada, the refreshing mix of pineapples and coconuts to compliment the current lineup of caramel, mint, cherry, bubblegum, melon and cola lime.
Packaged in the same easy–to–use SingleDose delivery system and providing the same quick uptake formulization, Profluorid Varnish's great tasting Pina Colada flavor is sure to expand on the success Profluorid Varnish has already enjoyed.
Profluorid Varnish was introduced to the US market in 2009. With its low film thickness, subtle, great–tasting flavors and smooth feel, Profluorid Varnish quickly gained US popularity and today is one of the leading brands of fluoride varnish with dentists, hygienists, and patients. Learn more about Profluorid Varnish here, or call 888-658-2584.