Sure Seal Medical Announces 3 New Medical Grade Surgical Face Masks
Sure Seal ASTM Level 3 Surgical Ear-Loop Disposable Face Masks
Sure Seal Medical is a superior Manufacturer in Surgical Face Mask Protection. Our Surgical Face Mask Lines Protect you and your patients from harmful bacteria, fungi and viruses. Sure Seal Medical Has Announced the manufacturing of 3 New Brands of Disposable Surgical Face Masks. They Are SureSeal Surgical Face Masks, Extra Safe Face Masks, And Omega Brand Surgical Face Masks.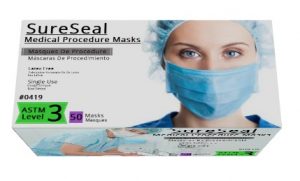 SureSeal Medical Makes all of its Surgical Face masks with an Innovative inner material that feels silky soft on your skin, along with gentle ear loops and a curved nosepiece for a pleasant fit. Hypoallergenic. Latex Free. Blue or Black color. It's softer and more breathable. It is available in all three levels of ASTM protection for fluid resistance. Sure Seal Surgical Procedure Masks are manufactured in an ISO compliant facility by a manufacturer that is approved by the FDA to produce medical supplies of all forms. not just Disposable Face masks. These Face masks have undergone rigorous testing to ensure regulatory compliance and more importantly to ensure a premium Surgical Face Mask you can trust. Better fit than leading competitors for improved protection. Exceeds ASTM performance requirements for bacterial and particle filtration. Patented nose bend for proper mask placement.
Trust Sure Seal Surgical Face Masks to help protect you in the fight against infectious diseases, including COVID-19
SureSeal Disposable Face Masks have been tested by a 3rd Party Medical Device Lab. The Medical Lab is a laboratory accredited to assess "Surgical Face Masks, Gloves, Medical Protective Clothing and Other Personal Protective Equipment (PPE)." These test reports from these labs are also accepted by the US FDA.
these test results include over 99% bacterial filtration efficiency and meet the EN14683 Type IIR EU Standard requirements. Sure Seal Surgical Face Masks are Now Made In The USA.
Brand: Sure Seal
Color: Electric Blue & Black
Composition/Ingredients: Hypoallergenic
Fluid Resistant: ASTM Level 3
Item Type: Earloop
Quantity: 50/Box
Bacterial Filtration Efficiency: >99.7
Particulate Filtration Efficiency: >99.6
Flame Spread: Class 1
Differential Pressure: >5.0
Meets ASTM Level 3 standard, 160 mmHg
Packaging: Since the Corona Virus They are now Packed in a Plastic Bag, And then in a Nice Large Unique Distinguished Satin Bag Inside the Box to prevent Cross Contamination
Contact www.Suresealsurgicalmasks.com to order.