Study: Tongue Microbiome May Help Identify Pancreatic Cancer
Recent research discovered that differences in the number of certain bacteria found on the tongue may be indicative of early pancreatic cancers. The study "Tongue Coating Microbiome Data Distinguish Patients with Pancreatic Head Cancer from Healthy Controls," published in the Journal of Oral Microbiology, may lead to new strategies for prevention and early detection of […]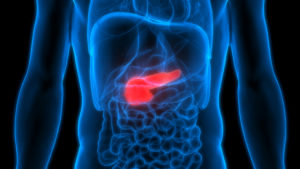 Recent research discovered that differences in the number of certain bacteria found on the tongue may be indicative of early pancreatic cancers. The study "Tongue Coating Microbiome Data Distinguish Patients with Pancreatic Head Cancer from Healthy Controls," published in the Journal of Oral Microbiology, may lead to new strategies for prevention and early detection of this deadly cancer if the results can be replicated in larger study samples.
Researchers used gene-sequencing technologies to analyze the microbiome diversity of the tongue of 30 patients with early-stage pancreatic cancer and 25 healthy controls, all between the ages of 45 and 65. The abundance of four types of bacteria—low levels of Haemophilus and Porphyromonas and high levels of Leptotrichia and Fusobacterium—were found on the tongues of patients with pancreatic cancer.
Early detection and diagnosis of pancreatic cancer would greatly improve the chances of successful treatment; however, patients with this aggressive cancer often go undiagnosed until it is in the advanced stages.