SolFlex 170 DLP Dental 3D Printer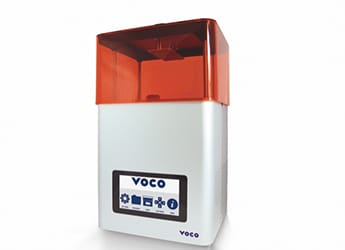 While almost every dental lab is utilizing 3D print technology, more and more dentists are beginning to adopt this technology to save time and money, especially to manufacture splints, surgical guides and models. Compared to general consumer-oriented printers, VOCO's compact desktop dental 3D printer was custom-engineered for the dental office and excels thanks to higher printing speeds, more accuracy and the ability to print truly clear orthodontic appliances.
One of SolFlex 170's various innovations is sensor monitored production (SMP). An optional built-in laser sensor measures the peeling forces to optimize the building speed. Not only does this increase process efficiency and reliability, it reduces print times by as much as 40% — as well as reducing material-consuming misprints.
Another innovation is VOCO's use of 385 nm DLP (Digital Light Processing) chip technology. With a wavelength of 385 nm, the SolFlex printers can print in the invisible spectrum of light, allowing for the production of truly clear ortho appliances without the yellow tint, which is a byproduct of SLA or DLP printers that print using a wavelength of 405 nm. The use of DLP technology is faster and has a higher resolution than SLA printers, which is particularly useful for high-precision objects like crown and bridge models or surgical guides.
A third innovation is the SolFlex 170's use of VOCO's patented Flex-Vat technology. The Flex-Vat build tray is flexible and made from one piece of high-tech silicone. This significantly reduces the peeling forces during manufacturing, enabling the printer to work much more quickly while reducing the number of required support structures, and reducing post-processing time and material used.
VOCO is taking advantage of more than 30 years of resin manufacturing know-how to offer with V-Print high-quality print resins that are optimized for the SolFlex printer. However, the printer adheres to the open print standard, meaning most 3D printing materials can be used with this printer.
VOCO also offers the intuitive Pyramis software free with all printers as well as an optional 24-hour loaner exchange and job continuation solutions with on-call professional dental lab technicians. Each customer receives extensive training at no cost.