ErgoEdge™ Expands Orascoptic's™ Custom-Engineered Frame Offerings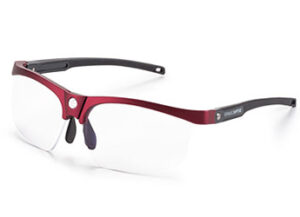 Orascoptic, the leader in superior vision solutions for dental and medical professionals has announced that it will be adding the brand new ErgoEdge frame to its product portfolio.
"We could not be more excited to introduce another innovative solution to the loupe category," says Drew Weightman, general manager at Orascoptic. "ErgoEdge is the first and only through-the-lens frame that allows the user to fine tune their loupe declination angle. Built as a stylish sports frame, the ErgoEdge enables clinicians to fine tune the declination on their Orascoptic loupes to achieve their own preferred balance of comfort and ergonomic posture. With this launch we are proud to continue our legacy of leading the market with fundamental loupe innovation in support of our clinician customers."
ErgoEdge allows the user to achieve a personal balance of comfort and posture as never before. It is an innovative sports frame specifically engineered as a platform for loupes. This patent-pending platform is equipped with a suite of adjustable features — most notably the ability to fine-tune the declination angle of the loupes using our Comfort-tilt™ technology. The adjustable nose pad can be moved up and down in addition to being spread or compressed to best match each user's specific facial geometry.
The user-adjustable declination angle, adjustable nose pad and the next step in innovation in temple arm flexibility creates new possibilities for achieving the optimal fit while preserving alignment of these custom loupes. ErgoEdge also features pragmatic improvements, such as a head strap that clips directly into the tips of the temple arms for a more secure fit.
To learn more about ErgoEdge, visit orascoptic.com.