Benco Dental Offers VarioSonic to Navigate Every Oral Condition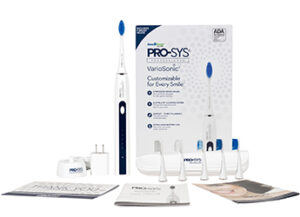 Benco Dental, the nation's largest privately-owned dental distributor, with an 88-year record of delivering success to dental practices, introduces  PRO-SYS VarioSonic.
After two years of R&D, Benco Brands is proud to release the PRO-SYS VarioSonic electric toothbrush—the first sonic toothbrush specially designed for healthy patients, as well as patients with compromised soft tissue. With five different brush heads of various stiffnesses in the box and five distinct speeds, the VarioSonic allows 25 possible intensities—perfect for every oral condition.
VarioSonic features Dupont™ filaments, the gold standard of dental bristles, a travel case, a battery that lasts a full month, and a beautiful package that dentists will be proud to present to their patients. Best of all, it's priced at two thirds less than the market leader, so it's a power brush that anyone can afford.
For more information, visit: benco.com.