Researcher receives CDC award to fight antibiotic resistance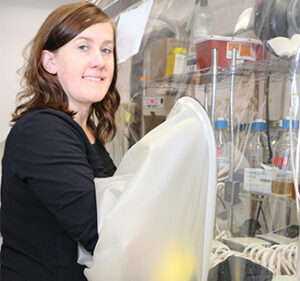 The U.S. Centers for Disease Control and Prevention (CDC) has awarded Jennifer Auchtung, PhD, MA, assistant professor of molecular virology and microbiology at Baylor College of Medicine, with a 1-year, $294,000 grant to develop tools to combat antibiotic resistance.
The award is part of the Antibiotic Resistance Solutions Initiative, which is part of the CDC's efforts to support known strategies for protecting people and slowing antibiotic resistance. Funding was determined through a competitive selection process.
Auchtung's submitted proposal focuses on cross-validating two different models of the gastrointestinal microbiome: human fecal mini bioreactors and a model of the human gastrointestinal microbiome living in mice. Researchers will study antibiotic resistance in both models, which are described as being complex and replicate several functions of the human microbiome obtained from human fecal samples.
The team will study if treatment with antibiotics in these models promotes expansion of antibiotic resistant bacteria, using next-generation genetic sequencing to determine genetic changes that correlate with antibiotic resistance. They will also study metabolic evidence for resistance to penicillins and cephalosporins, as well as study how treatment with antibiotics impacts susceptibility to Clostridium difficile, according to Auchtung.