Children's Oral Health Disparities Persist Despite Equal Dental Care Access
Practitioners need to consider oral health care as part of a child's total health care, according to a new study from Columbia University College of Dental Medicine (CDM), which encourages all health care professionals to treat caries as the chronic disease that it is. The study, released in Health Affairs' December issue and discussed Dec. 7 at a health policy briefing in Washington, D.C., found that the oral health of children who receive dental care through Medicaid lags behind their privately insured peers, even though they are seeing dentists at similar rates.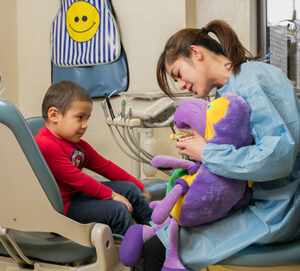 "If poor and low-income children now enjoy equal access to dental care, but do not have equal oral health, the remedy should focus more tightly on the day-to-day factors that put them at higher risk for dental problems," says lead author Burton L. Edelstein, DDS, MPH, chair of the Section of Population Oral Health, professor of dental medicine, and professor of health policy and management at Columbia's Mailman School of Public Health. "Low-income families often face income, housing, employment and food insecurities that constrain their ability to engage in healthy eating and oral hygiene practices."
The study analyzed data from the 2011–2012 National Survey of Children's Health that included parent reports of oral health and use of dental care for 79,815 children and adolescents of all social strata. According to CDM, parents of children enrolled in Medicaid were 25% more likely to report their child did not have an "excellent or very good" dental condition, and were 21% more likely to report their child had a dental problem within the last year than were parents of privately insured children. Medicaid mandates that the program's beneficiaries have access to equivalent health services as the general population.
Edelstein and the study's coauthor, Jaffer A. Shariff, DDS, MPH, a research associate in the Section of Population Oral Health and a periodontal resident at CDM, recommend creating a team of providers —including social workers, health educators and community health workers — to help promote healthy behaviors and address issues that may impact low-income children's oral health.
Featured photo courtesy of Health Affairs.