OraRad Study Aids Understanding Of Head and Neck Cancers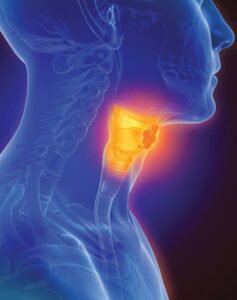 Data released by investigators for OraRad — a landmark, multicenter prospective cohort study examining oral complications after radiation therapy (RT) for head and neck cancer — show promise for improving early detection, treatment and outcomes. Notable findings include:
Despite comprehensive pre-RT dental management, 17.8% of teeth present at the start of therapy were lost within two years.
Radiation led to a striking increase in gingival recession, in a dose-dependent manner. The mean distance from the cementoenamel junction to the gingival margin decreased by 74% during the two-year study period.

 

Exposed intraoral bone was diagnosed in 35 of the 572 participants (6.1%). A diagnosis of osteoradionecrosis was confirmed in 18 subjects (3.1%).
Stimulated salivary flow at six months was reduced to 37% of pre-RT levels. This was followed by a partial recovery in salivary flow, to 59% of pre-RT levels at 18 months.
There was a modest increase in caries within the first two years following RT. The mean score for decayed, missing and filled surfaces was 47.6 pre-RT, which increased to 51.9 at the 24-month follow-up visit.

 
Noting that further study is needed, the OraRad team is optimistic these findings will help lead to new therapeutic approaches for this patient population. 
From Decisions in Dentistry. June 2022;8(6)8.