Discovery May Restrict Growth and Spread of Head and Neck Cancers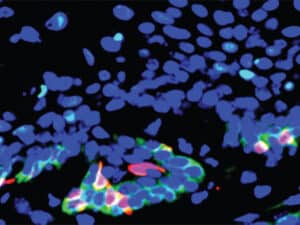 The discovery of a molecule that allows cancer stem cells to bypass natural immune defenses may lead to new approaches to prevent the growth and spread of head and neck squamous cell carcinomas. This finding from researchers at the University of California, Los Angeles School of Dentistry could pave the way for more targeted treatments for these highly invasive cancers, which are characterized by frequent resistance to therapy, rapid metastasis and high mortality.
Published in Cell Stem Cell, results from the study, "CD276 Expression Enables Squamous Cell Carcinoma Stem Cells to Evade Immune Surveillance," offer hope for new strategies for managing this patient cohort. Also known as tumor-initiating cells, cancer stem cells' ability to proliferate during tumor growth suggests an intrinsic capacity to evade the immune system's infection-fighting T cells.
Known as checkpoints, protein molecules on the stem cells' surface bind to similar molecules on T cells, nullifying their cancer-killing properties. As a result, immunotherapy drugs called checkpoint inhibitors can be used to deactivate these checkpoint receptors. While this approach has proven effective in several types of cancer, results for head and neck squamous cell carcinomas have been mixed.
After testing PD-1 checkpoint inhibitors with little success, the team discovered that cancer stem cells in head and neck tumors had a notably elevated expression of the CD276 gene, which encodes a protein molecule on the cell surface. This suggests CD276 functions as a checkpoint that shields tumors from the body's T cell response.
The investigators next administered anti-CD276 antibodies to see if this would turn off the checkpoint and inhibit the cancer's growth and spread. This resulted in a significant decrease in cancerous lesions and cancer stem cells, including the number of tumors that metastasized, leading the authors to conclude, "focusing on CD276 and the immune response holds promise for preventive therapies targeting head and neck squamous cell carcinomas."
From Decisions in Dentistry. August 2022;8(8)6.