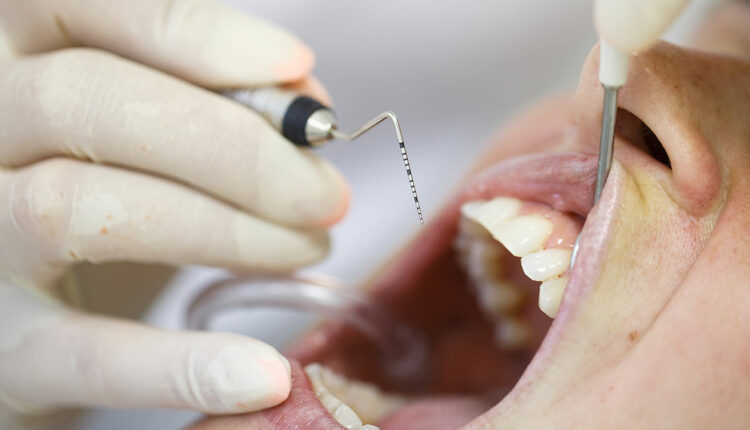 zlikovec / iStock / Getty Images Plus
Effectively Addressing External Root Resorption
A thorough understanding of root resorption will help clinicians best advise their patients on treatment options.
There are multiple forms of external root resorption. Each presents with its own unique signs and symptoms. However, the pathogenesis is linked to the loss or damage of the periodontal ligament, activating cementoblasts.1,2 External root resorption is a pathological process, which tends to occur following a wide range of mechanical or chemical stimuli such as infection, pressure, trauma, or orthodontic tooth movement. External root resorption is usually detected radiographically, however, some cases may be identified by clinical symptoms such as pain or swelling.3
External inflammatory root resorption (EIRR) tends to arise from endodontic pathology triggered by the loss of cementum.4,5 Apical EIRR is found at the apex of the tooth and can present with subclinical symptoms in cases of current or past orthodontic therapy or total pulp necrosis. Pressure resorption is a noninflammatory form of external resorption that may occur as secondary damage of the periodontal ligament due to orthodontic movement or the eruption of a misaligned tooth.4
External cervical resorption (ECR) is the final category of resorption.4 ECR typically starts at the cervical area of the tooth, but it may be found just above the epithelial attachment.2,6 Inflammation of the junctional epithelium of the periodontal attachment can predispose the patient to this type of resorptive process.6 Possible etiologies include a history of orthodontics, trauma, periodontal therapy, or internal bleaching with caustic agents. However, it often presents idiopathically.7,8 ECR is the form of resorption most often seen in clinical dental practice.4
Treatment options vary depending on the extent of the ECR to the root structure. If the tooth is restorable, then the lesion can be managed with a surgical procedure, followed by restoration of the defect.7,9 If there is pulpal involvement, then endodontic treatment is indicated.4,10
The dental hygienist serves a critical role in patient education as well as addressing any questions the patient may have concerning each treatment option, so that a mutually agreed upon treatment plan can be established.11
Finding the Unexpected
Looking for the unexpected is part of the dental hygiene oral assessment. Keeping up-to-date about rare oral conditions can help the clinician to detect early disease and enable teeth to be saved. Educating patients about their oral condition and allowing them to choose the treatment option that is best for them should always be part of the dental visit. In addition, patients need to understand that ongoing care is critical for the success of any treatment option.
References
Barbosa dos Santos J, Castillo J, Nishiyama C, Esper L, Pinto L, Pinheiro C. External root resorption: diagnosis and treatment—clinical case report. Journal of Dental Health, Oral Disorders and Therapy. 2018;9(2).
Chen Y, Huang Y, Deng X. External cervical resorption—review of the pathogenesis and potential predisposing factors. International Journal of Oral Science. 2021;13(19).
Ahangari Z, Nasser M, Mahdian M, Fedorowicz Z, Marchesan MA. Interventions for the management of external root resorption. Cochrane Database Syst Rev. Interventions for the management of external root resorption. Cochrane Database Syst Rev. 2015;2015:11.
Blicher B. Differentiating resorption.
Abbott PV. Prevention and management of external inflammatory resorption following trauma to teeth. Aust Dent J. 2016;61(Suppl 1):82–94.
Warnsinck CJ, Shemesh H. [External cervical root resorption]. Ned Tijdschr Tandheelkd.2018;125:109–115.
Patel S, Foschi F, Condon R, Pimentel T, Bhuva B. External cervical resorption: part 2 —management. Int Endo J. 2018;51:1224–1238.
Heithersay GS. Invasive cervical resorption: an analysis of potential predisposingfactors. Quintessence Int.1999;30:83–95.
Heithersay GS. Treatment of invasive cervical resorption: an analysis of results using topical application of trichloroacetic acid, curettage, and restoration. Quintessence Int.1999;30:96–110.
Tronstad L. Root resorption—etiology, terminology and clinical manifestations. Endo Dent Trauma. 1988;4:241–252.
American Dental Hygienists' Association. Professional Roles of the Dental Hygienist.
This information originally appeared in Smith D. The role of the dental hygienist in external root resorption. Dimensions of Dental Hygiene. 2022;20(6)14–21.