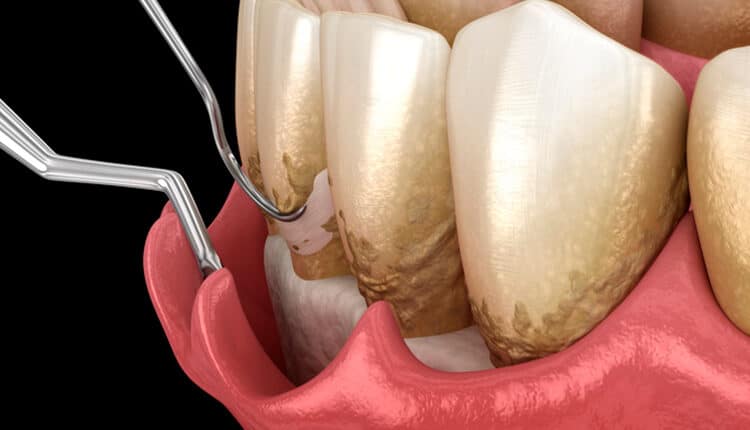 alex-mit / iStock / Getty Images Plus
Instrumenting Difficult-to-Reach Anatomy
Following are tips to effectively remove calculus from the deep palatal surfaces of maxillary molars and maxillary buccal furcations.
The mini- and micro-mini-bladed Gracey curets enable access in areas previously too difficult to reach with standard instruments. These mini-bladed curets also come in both finishing and rigid designs and can be used for both calculus removal and light finishing scaling for periodontally involved patients—especially those with tight pockets and concavities. Mini-bladed curets also provide an alternative to finishing with slim power instruments. These Gracey curets should be considered when treating and/or maintaining periodontally involved patients with depressions, deep pockets, and tight tissue.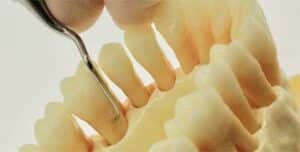 DEEP PALATAL SURFACES OF MAXILLARY MOLARS
The root morphology of maxillary molars includes concavities leading into the furcation areas and a palatal root that is usually convex; however, it could contain shallow concavities.1 The maxillary molars have long and bulky palatal roots, and a deep palatal developmental groove may be present, making it difficult to instrument with traditional instruments.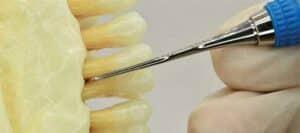 To best adapt to these surfaces, a mini- or micro-mini-bladed Gracey 7/8 or 13/14 curet can be inserted along the midline of the tooth with vertical strokes. The toe is directed toward the distal surfaces. Roll the instrument blade when entering toward the distal surface to adapt and cover the distolingual line angles. Be sure to adapt the terminal shank to the surface being scaled. This technique can be accomplished at a 2 o'clock clinician position with the patient chin-up and a same-arch fulcrum (Figure 1).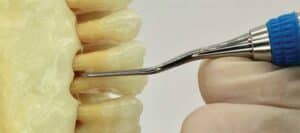 MAXILLARY BUCCAL FURCATIONS
Furcations of the maxillary molars are more often periodontally involved than those of the mandibular molars. Buccal furcations of the maxillary first molars are the most frequently affected, followed by the mesial and distal furcations.2 Therefore, instruments that adapt well into furcations are vital to prevent periodontal diseases in high-risk root surfaces.
A single or combination of mini- or micro-mini-bladed Gracey curets can debride all aspects of a buccal furcation of maxillary molars. A straight shanked micro-mini-bladed Gracey 1/2 or mini-bladed Gracey 1/2, 5/6, or 7/8 curet can be used with vertical strokes to scale both mesial and distal surfaces of the root surfaces of the buccal furcation. Ideally, an extraoral fulcrum should be used in order to extend the instrument for proper angulation, especially if the furcation is periodontally involved (Figure 2 and Figure 3).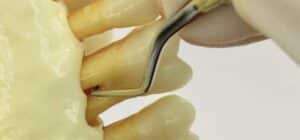 For buccal furcations of the second and third molars, a combination of the mini- or micro-mini-bladed 11/12 and 13/14 Gracey curets should be used to improve angulation and adaptation when instrumenting more posteriorly with intraoral, same-arch, or extraoral opposite-arch fulcrums. To finish scaling a buccal furcation, the roof or entrance of the furcation can be lightly scaled with a mini- or micro-mini-bladed Gracey 13/14 curet utilizing a same-arch fulcrum (Figure 4). Adapt the terminal shank with the long axis of the buccal surface of the molar and swing the handle slightly toward the buccal surface so the angle of the toe is open to activate a short finger-flexing scooping-out technique of the soft and hard deposits that reside on the floor of the furcation. More tenacious deposits may require an adjustment from light- to moderate-scooping strokes.
REFERENCES
Hodges K. Hand instrumentation of first molar teeth. Dimensions of Dental Hygiene. 2018;16(5):16–18.
Cattabriga M, Pedrazzoli V, Wilson TG. The conservative approach in the treatment of furcation lesions. Periodontol 2000. 2000;22:133–153.
This information originally appeared in Sanchez JS, Nguyen M. Improve nonsurgical periodontal therapy with appropriate instrument choice. Dimensions of Dental Hygiene. 2021;19(2):16–21.