Align Technology's Next Generation Invisalign Virtual Care AI-Assisted Remote Monitoring Solution Automates and Streamlines Workflows
Automation – AI-assisted Automatic Assessment and Automated Notifications enable doctors to prioritize treatment tracking exceptions to address treatment progress, including patient compliance — a key for teens and their parents
Integration – Creates a seamless and intelligent, single-platform experience for doctors and their staff through integration with the Invisalign Doctor Site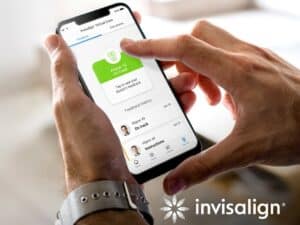 Align Technology, a leading global medical device company that offers the Invisalign system of clear aligners, iTero intraoral scanners, and exocad CAD/CAM software for digital orthodontics and restorative dentistry, introduced Invisalign Virtual Care AI, its next generation remote monitoring solution with new artificial intelligence-assisted capabilities that streamline workflows for doctors and their staff. It includes features such as patient enrollment, setup, and review directly on the Invisalign Doctor Site, without the need to use separate standalone solutions.
Invisalign Virtual Care AI helps doctors remotely monitor Invisalign treatment progress based on their own preapproved clinical settings and AI-assisted algorithms for Automatic Assessment calibrated to each doctor's ClinCheck treatment features. Based on doctor settings, AI-assisted Automated Notifications guide patients to either advance to the next aligner stage if their treatment is tracking well or to stay on their current stage for longer or to contact their doctor if their treatment is not tracking.
Invisalign Virtual Care AI builds on the MedTech Breakthrough award-winning Invisalign Virtual Care platform launched in March 2020 during the COVID-19 pandemic to help Invisalign doctors connect with patients remotely through the My Invisalign App to monitor treatment progress and ensure continuity of care during Invisalign treatment. It offers several software features to create a seamless and intelligent, single-platform experience. Part of the Invisalign Virtual Care AI solution is the AI-assisted Automated Notifications (Virtual Care 3.0) feature, which is a registered medical device in some countries.
"Align is committed to continuous innovation in digital orthodontics and I am excited about our next generation AI-assisted remote monitoring solution," says Raj Pudipeddi, Align Technology's chief product and marketing officer, executive vice president and managing director, Asia Pacific. "Invisalign Virtual Care AI is the only doctor-directed AI-assisted remote monitoring solution in the market that integrates with the Align Digital Platform, enabling doctors to prioritize Invisalign treatment tracking exceptions. It creates a seamless and intelligent, single-platform experience for Invisalign doctors and their staff through integration with the Invisalign Doctor Site, without the need for a separate portal and login, or expensive third-party workarounds. In addition, since it's part of the Align Digital Platform and integrated with ClinCheck software, it incorporates attributes from the approved treatment plan into the assessment, such as tooth type, size and shape. Further, it automatically assesses patient-submitted photos through the My Invisalign App, sending instructions back to patients on their smartphone in as little as one hour."
AI-assisted Remote Monitoring Fully Integrated with the Align Digital Platform
Invisalign Virtual Care AI is integrated with the Align Digital Platform, which includes the Invisalign Doctor Site, ClinCheck treatment plans, and the My Invisalign App. No separate portal or login is required since remote monitoring is managed directly on the Invisalign Doctor Site, which benefits doctors and their staff. Similarly, patients can use their My Invisalign App without the need to download a separate app for remote monitoring.
AI-assisted Photo Capture: Easy capture of clinically relevant photos via the My Invisalign App for patients with a next-generation user interface and intelligent real-time photo guidance. Patients send photos with every aligner change and receive progress notifications on their My Invisalign App. No separate remote monitoring app is required.
AI-assisted Automatic Assessment:* Automatic assessment measures and highlights the size of aligner spaces based on doctor settings.

Objective and doctor-directed: AI uses each doctor's settings to objectively measure aligner spaces. Doctors can customize settings at a clinic level or for individual patients.
Tooth-specific detail: Aligner spaces are measured and highlighted individually for each tooth. This enables doctors to quickly hone-in on problem areas where teeth do not correctly fit into the tray. Any exceptions to treatment progress, such as aligner fit or a tooth that is not moving as expected, are flagged for doctor review, helping ensure patient treatments are being monitored between in-office visits.
The Invisalign Virtual Care AI remote monitoring solution is in active global rollout to Invisalign-trained doctors. Clinicians should check with their Align sales representative for information specific to their market and product availability. For more information, visit the "Virtual Care" tab on the provider's Invisalign Doctor Site.
*AI assessment results are reviewed by Align-trained personnel prior to automated notification being sent to ensure assessment is consistent with doctor's settings.