Parkell Introduces Predicta Bioactive Cement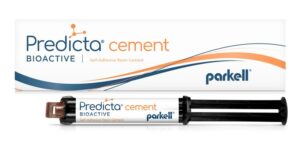 Parkell is proud to introduce Predicta Bioactive Cement, which is formulated to fill and seal microgaps with robust hydroxyapatite formation at the margin, thereby alleviating or preventing microleakage. By combining the properties and performance of premium universal resin cements with bioactivity, Parkell offers a cement that gives crown margins unprecedented protection against secondary caries.
"We are extremely excited to introduce Predicta Bioactive Cement," says David Mott, president of Parkell. "It's the result of years of research by our chemical team, who worked in close collaboration with universities and practicing dentists, and the results and feedback have been tremendous."
Predicta Bioactive Cement is a self-adhesive, self-etching, dual-cure resin cement indicated for luting crowns, bridges, inlays, onlays and posts. It has outstanding bond strength across a full range of indications, including zirconia, without the need for primers. This material provides optimal viscosity and consistency for easy handling and cleanup. It is highly radiopaque and has a low film thickness for complete seating of restorations, with no postoperative sensitivity. It is currently available in translucent and A2 shades. For more information, please visit parkell.com or call (800) 243-7446.