AACD Welcomes Newly Credentialed Dentists to the Ranks of Elite Practitioners
The American Academy of Cosmetic Dentistry (AACD) is pleased to recognize the efforts of three dental professionals who have dedicated themselves to continuing their education and delivering the highest level of care by becoming credentialed by the AACD.
An honor that's achieved after completion of a rigorous credentialing process, AACD accreditation includes a written examination, the submission of clinical cases for peer-reviewed examination, and an oral examination. The process was developed by the AACD and is the most recognized advanced credentialing program globally. The goal of the AACD accreditation process is to keep the doors of education open and encourage interactions with like-minded colleagues for professional growth and to create a foundation of support and collaboration.
The newly accredited members are Joy Brauer, DDS, AAACD; Dimple Desai, DDS, AAACD; and Ryan Springer, DDS, AAACD.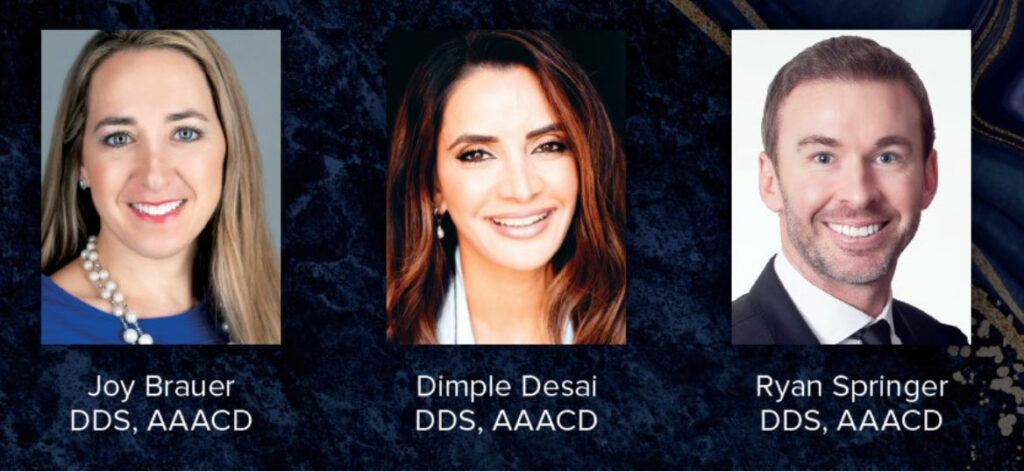 The time and commitment that is required to complete the accreditation process demonstrates a true dedication to the profession. Drs. Brauer, Desai and Springer have achieved a level of professional success in dentistry that is achieved by few, and the AACD applauds their journey and accomplishments.
These newly accredited professionals will be recognized at the 38th Annual AACD Scientific Session, April 27–30, in Orlando. For more information, visit aacd.com/accreditation.
About the AACD
The AACD is the world's largest nonprofit organization dedicated to advancing excellence in comprehensive oral care that combines art and science to optimally improve dental health, esthetics and function. Comprised of cosmetic dental professionals in 80 countries worldwide, the AACD fulfills its mission by offering superior educational opportunities, promoting and supporting a respected accreditation credential, serving as a user-friendly and inviting forum for the creative exchange of knowledge and ideas, and providing accurate and useful information to the public and profession.