New OAT oral appliance therapy medical billing code issued for the treatment of OSA obstructive sleep apnea (K1027)
Slow Wave DS8 first OAT approved by CMS under HCPCS Code level II (K1027)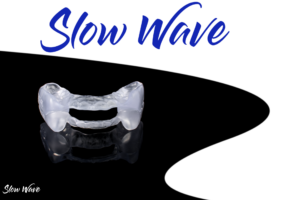 The U.S. Centers for Medicare and Medicaid Services (CMS) have created a new oral appliance therapy (OAT) billing code, K1027, for use in the treatment of the medical condition obstructive sleep apnea (OSA).  The issuance of code K1027 resulted from a public hearing on the Slow Wave DS8, a multi-patented and newly FDA cleared oral appliance that takes a unique approach to treating an illness that impacts one out of every twelve adult Americans according to the American Academy of Sleep Medicine (AASM).
CMS issued the new code K1027 so that products like the Slow Wave DS8 can take an approach that better utilizes today's 100% digital scanning and printing technologies.  The new code also does not require an inseparable hinge, can be billed by the Dentist or DME, and incorporates a vertical opening component that allows the mandible to move in a natural position to maximize patient comfort (more down less forward) and can make more room for the tongue to naturally migrate forward into the new space provided by this vertical component.
"One key to treating obstructive sleep apnea is to get patients to actually wear their prescribed devices with little or no pain," says Wayne Wagner, CEO and inventor of the Slow Wave DS8. "As a OSA sufferer myself I know how difficult this can be. What we do different is open the jaw between 6mm and 9mm depending on the patient physiology, forming a gap between the front teeth.  This tight window of vertical opening gives much more room for the tongue to naturally migrate forward into the gap which in turn opens the airway during sleep.  We were also the first FDA cleared product to be 3D printed on a Formlabs 3D printer from a digital scan.  This digital approach gives us accuracy to 1/100th of a millimeter.  This means the Slow Wave DS8 custom fits perfectly without need for adjustments."
The new CMS code K1027, which became effective on October 1, 2021, opens the door for OSA oral appliances to follow this all-digital design and manufacturing path. For Slow Wave, "we ultimately think there will be a digital 3D printer in every dentist office in the country, making sleep medicine just one more thing every dentist can do" added Wagner.  "Patients with OSA obstructive sleep apnea issues will eventually be able to bring their medical diagnosis and prescription to their dentist who can digitally scan them in the morning and give them an appliance later that day."
Slow Wave, Inc. is headquartered in Spicewood, Texas. It currently has five patents issued on the Slow Wave DS8 design, including the key patent that adds a vertical component making more room for the tongue to naturally migrate forward into a gap between the front teeth, with two additional patents pending.  The company go-to-market strategy is to work with dentists who identify potential sleep apnea sufferers.  Slow Wave arranges for patient home sleep study, diagnosis and medical prescription and returns the patient to his/her dentist for 3D scan and product delivery.  Slow Wave also handles all medical billing and interfacing with the sleep doctor for the dentist.