ADA Business Innovation Group Names Tim Steffl New President and Chief Executive Officer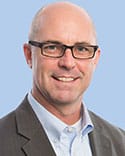 The American Dental Association (ADA) Business Innovation Group (ADABIG) today announced Tim Steffl as its new president and chief executive officer.  In this position, Steffl will be responsible for establishing short and long-term profitability and measureable growth of ADABIG to meet strategic and financial goals, as well as creating a strategy for increasing and scaling ADA Practice Transitions.
Steffl comes to ADABIG from his role as vice president of strategic development and finance of Delta Dental Plans Association, where he provided strategic oversight and leadership to multiple functions within the association. Prior to DDPA, he was president of Pivot Health Advisors, where he developed product and commercialization strategy for one of the nation's largest hospital systems.
"I'm thrilled to be taking on this role with ADABIG and look forward to contributing to the organization's continued success," said Steffl.
"We are happy to welcome Tim into this position and to the ADA," said ADA spokesman Dr. Kirk Norbo. "His extensive background in the healthcare industry, as well as his business experience and expertise are perfectly aligned with the future direction of ADABIG. We're excited to have him on board and anticipate a smooth transition as he becomes our new president and CEO."