Tokuyama Dental America Introduces REBASE III
Pleasant for Patients, Now Easier Than Ever to Use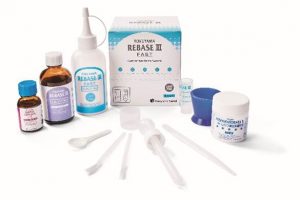 Encinitas, CA: Tokuyama Dental America is proud to announce the release of REBASE III, the next generation of chairside hard denture reline material. Now with enhanced mixability, extended handling time, increased flexural strength –and even less irritation – REBASE III is well positioned to succeed Rebase II, the #1 choice of dentists for hard denture reline for more than 25 years.
Help ring in the New Year with this special offer – Buy 1 REBASE III SET, Get a REBASE Liquid or Powder at No Charge! Available for purchase everywhere in the USA and Canada starting January 1st, 2021.
Designed for all long-term complete and partial acrylic hard denture reline applications, REBASE III reaches new levels of quality and dependability. The new hard reline material simplifies the overall chairside procedure through enhanced mixability – requiring less mixing time and with less bubble formation than ever; extended handling time – ensuring optimal viscosity for complete coverage of the entire denture base; and increased flexural strength – outperforming and outlasting the most durable hard relines available.
As the most modern addition to hard denture reline, not all new features and benefits are held exclusively for dentists. REBASE III's advanced monomer composition works to eliminate intraoral discomfort by removing harsh chemical odors and tastes that are commonly associated with hard denture reline treatments and endured by the patient.
Innovating Tomorrow's Dentistry, Today™ – REBASE III is pleasant for patients and now easier than ever to use.
Tokuyama Dental America will continue to fulfill orders for Rebase II until supplies run out, at which time it will be discontinued.
For more information on REBASE III, please visit tokuyama-us.com or call us at +1 (877) 378-3548.
Tokuyama Dental America is a leading manufacturer of dental consumables, such as restoratives, adhesives, and denture reline products. As part of Tokuyama Corporation, the company looks back on more than 100 years of innovation and dedication to improving people's lives and wellbeing through advances in science and chemistry. Tokuyama Dental's products include innovations like OMNICHROMA, the world's only universal composite that matches every tooth shade with one shade of composite, Tokuyama Universal Bond, the first truly self-cured universal adhesive, and Rebase III. Tokuyama Dental America is 100% dedicated to Innovation Tomorrow's Dentistry, Today.