Owandy Radiology's I-Max 3D Wall-Mounted Unit Receives FDA 510 (k) Clearance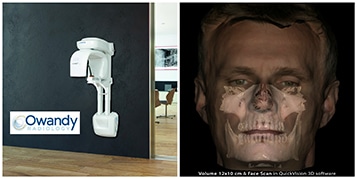 Owandy Radiology Inc, a global leader in the manufacture of dental radiology hardware and imaging software recently received FDA 510 (k) Clearance for its innovative 3-D wall-mounted panoramic digital radiography unit.
When it comes to owning a 3-D panoramic digital radiography unit, cost and physical space are the most common obstacles for many dentists. The I-Max 3D effectively addresses both issues, which is why it is selling briskly in many other parts of the world.
The I-Max 3D provides the perfect balance of price and performance. For example:
The sleek and light-weight I-Max 3-D is only 145 lbs. and is shipped fully-assembled in one box. It can be easily wall-mounted by one technician.
Comes equipped with a cone beam flat panel which delivers high-definition image quality.
Automatic Layers Integration System (ALI-S) ensures exceptional image quality and automatically selects the best images.
Multiple FOV's (Fields of View): 4 volume sizes to choose from :12×10 cm ideal for implantology-full mouth and condyle, 9x9cm for a full mouth, 9×5 cm for a full arch.
Endodontics Recommended: With its small 5x5cm volume coupled with an excellent resolution of 87

μ

24 Programs (including adult and child versions): Enable a full range of examinations required by today's dental practice.
Includes an intuitive, user-friendly Human Machine Interface (HMI) with automatically-integrated imaging tools and image-enhancing filters.
CAD/CAM Ready: Equipped with QuickVision 3-D software for comprehensive case planning and can share .STL files from a dental lab or a digital scanner.
Face Features Scan: You can import .PLY or .OBJ files into your 3D software and associate the corresponding 3D volume.
Implant surgical guides included.
For more information about the I-Max 3-D wall-mounted panoramic digital radiography unit, visit: owandy.com , call 203-745-0575 or email sales@owandyus.com