LANAP and LAPIP Protocols: Laser Gum Disease Protocols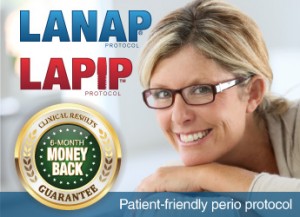 Over 50% of US adults have gum disease.  Offer your patients the LANAP protocol, the "No Cut, No Sew, No Fear™" option to grow your practice.   The LANAP protocol is a simple, sutureless perio treatment all clinicians can perform and your patients need.   Patients appreciate this proven, less painful and minimally-invasive option, and the treatment acceptance rates support this.
The LAPIP peri-implantitis protocol helps your patients protect their implant investment with a minimally-invasive solution for the growing tsunami of ailing and failing implants.
6 Month, No-Risk, Return Guarantee:  Treat confidently knowing you receive the training and support you need to success – backed by a Clinical Results Guarantee.
The only FDA-cleared laser periodontitis protocol histologically and clinically proven to work.
Increase practice profitability with treatments patients want and need
Profession's best 5 days of live-patient training is included in your package.  (live patients are provided)
Nd:YAG wavelength penetrates into tissue for effective bacterial kill without harming the tissue – laser wavelengths interact with tissue differently  and that matters!
Learn additional laser treatments with VAPs
The laser perio treatment chosen by over 30% of active AAP members
Millennium Dental Technologies, Inc. manufacturer of the PerioLase ®MVP-7™ for the LANAP® and LAPIP™ protocols, seeks to bridge the growing divide between gum disease patients and dentists/periodontists by providing a simple and comfortable patient experience with bone-building clinical results. By removing patient fear, dentists have the opportunity to bring patients back to seek treatment for their gum disease.