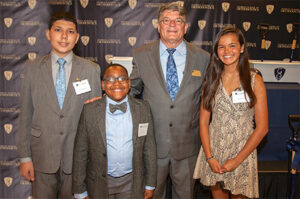 Georgia School of Orthodontics (GSO) announced that it will provide four Sandy Springs and Gwinnett County-based children with complimentary orthodontic care through its Gift of a Smile program. GSO established the Gift of a Smile program in 2016 to celebrate the grand opening of its Atlanta clinic. Since its inception, the program has provided free orthodontic care to nine children in the metro Atlanta area, as part of the school's pledge to provide $100,000 in complimentary orthodontic care to children who need braces but cannot otherwise afford it.
The relaunch of the Gift of a Smile program marks the celebration of the school's 3-year anniversary in the Atlanta community. GSO has partnered with Sandy Springs Public Schools and Gwinnett County Public Middle Schools for nominations for this year's recipients. Four students at participating schools will be selected to receive complimentary braces, and the schools with the most nominations will receive free school supplies for their classrooms.
The school's Gift of a Smile program is just one part of its mission to provide increased access to the highest quality orthodontic care at a lower cost than private practice orthodontics. GSO also has the Purple Heart Smiles program, which provides free orthodontic care to the children of Purple Heart recipients. To date, GSO has provided over twenty (20) children of Purple Heart recipients with complimentary care.
For more information on the School's Gift of a Smile program, and to determine your child's eligibility please visit www.BracesToday.com/Gift.